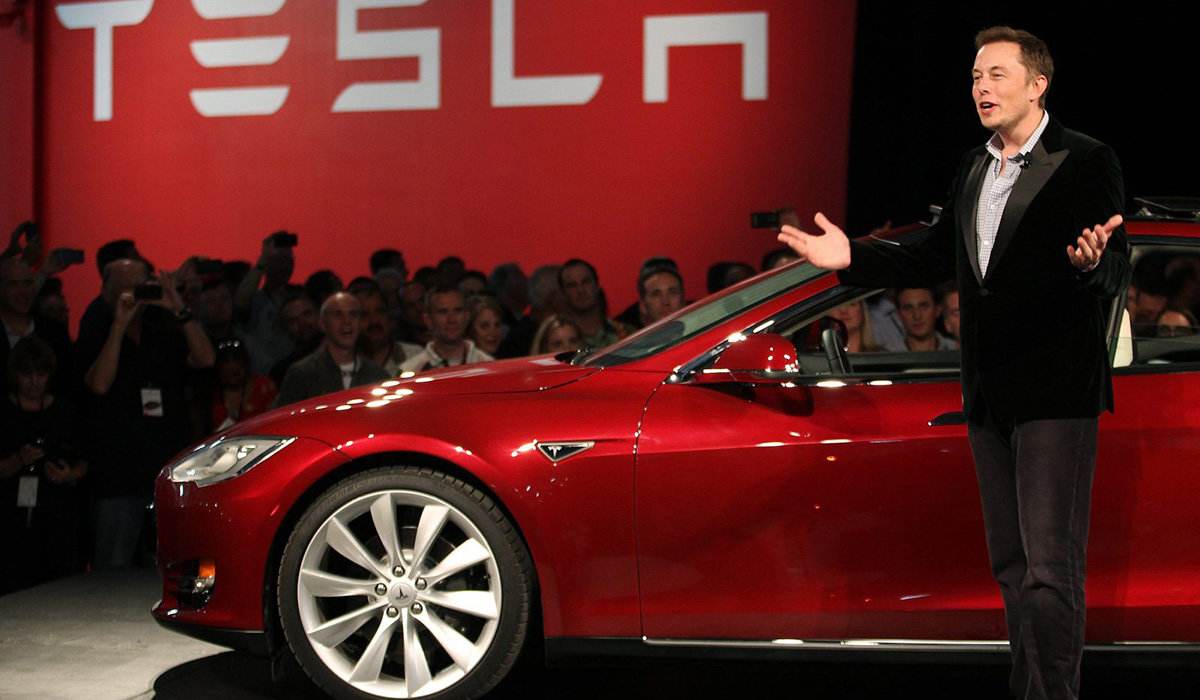 AutoR智驾 2017-08-09 17:21
为普通大众打造一款人人能负担得起的、比燃油车好用的纯电动汽车
"为普通大众打造一款人人能负担得起的、比燃油车还好用的纯电动汽车。这将是一款颠覆汽车产业的产品"。 ——马斯克,CEO,特斯拉
智驾注:特斯拉3在美国当地时间7月28日正式交付,在交付仪式上,马斯克乘一辆3系红色轿车闪亮登场,在他风趣幽默的演讲中全面讲解了3系车的设计以及安全和性能、量产计划、无人驾驶、超级电池工厂的规模。以下是中英文对照马斯克演讲全文。
All right. Hi everyone. For those that are watching this online, a couple of things I wanna point out before we are going through the presentation. The projector that is producing that image is powered by a Model S. There are no wires. That is a projector on a Model S with the energy coming from the battery pack. That is what's producing that image. That is the factory. That is actually part of the factory. That is not a screen. And people in the audience are the people that have designed and engineered and built the Model 3. (欢呼)
大家好!在开始看PPT之前我想先向正在观看在线直播的观众们介绍下,你们看到后面的投影所用的投影仪就在前面那辆特斯拉S款车上,投影仪用的是车内电池提供的电源,外面没有接其它电源线。投影投到的是我们工厂的一部分,那不是一块幕布。下面的观众是设计和制造了特斯拉3系的员工们。(欢呼)
Let's talk about what goes into making the Model 3. Let's start off with the design. Congratulations to the design team who has done a phenomenal job. I enjoyed working with you every week. You guys are amazing. Nice work! (欢呼) There are many elements of the design. It's difficult actually to say exactly what makes it good, but except that we agonize over every curve, over every detail, every corner, every element of the interior and the exterior, including things that people probably won't even notice. We care about every part of it. We think it was very simple and clean design.
下面我们看下3系的整个制造过程。首先我们看下3系的设计,我首先要恭喜我们的设计团队,你们的工作成绩卓著,每周和你们在一起工作我感到非常愉快,你们太棒了!3系的设计里面有很多元素,很难说具体是什么让3系这么优秀,我们对每个细节都非常苛刻,包括每个弧线,每个边角,内室和外观的每个元素,甚至包括人们看不到的细节。我们对每个细节都非常关注,整个设计简单而干净。
I think in the future, well, really, the future being now (未来已来!), that the cars will be increasingly autonomous. So you won't really need to look at an extra panel all that often. You will be able to do whatever you want. You will be able to watch a movie, talk to friends, to go to sleep. Every Tesla being produced right now, the Model 3, the Model S and Model X has all of the hardware necessary for full autonomy. I think a lot of people still don't realize that. It's got 8 cameras, it's got 12 ultrasonic sonars, it's got forward radar, and it's got over 10 teraflops of computing capability.
我认为在未来,但说真的我们已经实现未来,汽车应该更加无人化。你不必在驾车时不断的盯着一块多余的仪表盘,你可以做各种你想做的事情,你可以看电影、和朋友讲话,甚至睡觉。我们目前所生产的每一款车,3系、S系和X系都有无人驾驶所需要的所有硬件,我想很多人还没有意识到这一点。这些硬件包括8个摄像头、12个超声波唢呐、前置雷达和10个teraflop的运算能力。
Let's look at the interior. One of the challenges with the car was since it is smaller than Model S, how do we make a car that is smaller on the outside but bigger on the inside. We took an idea from Model X which was the canopy screen that makes you feel like you are, in the Model X, makes you feel like flying a helicopter. It really has the amazing feel. We turned that around put that on the rear of the Model 3, so that you can still have great deal of headroom, have this amazing view while being in a smaller car. It's one of the toughest design challenges of making the Model 3.
下面我们看下内室,由于3系比S系车型要小,我们在设计上遇到的挑战之一是如何让3系从外面看有些小但是从里面看有更大的感觉。我们从X系车型上借用了顶端透明的设计,这种顶端透明的设计让你感觉在开X系车的时候感觉像在开直升机。我们把这种设计用到了3系上,虽然车体小,但坐在车里仍然有足够的头顶空间,这是我们设计3系是遇到的艰难挑战之一。
Then in terms of engineering the car, we engineered it a lot easier to build. The Model S is an amazing car, but very hard to build. So we have to get the part count down, the design has to be light but also make it affordable. The team has done an amazing job of that. With this, what really shows up is things like safety. Let's take a look at the safety video. On the right you got a car that is one of the safest car in the world, the Volvo S60. (欢呼声) There are a lot of cars that say they are 5 star, and they are sort of 5 star. They are not scientific metric, but even though they are something like the Volvo, great car. By normal standard, it's very safe. The Volvo is, I agree, the second safest car in the world (笑声,Volvo躺枪). I think it is obvious which car you would prefer to be in in an accident. So the first and foremost for the engineering of the car was safety.
下面我们看下3系车型的工程设计,3系的设计更加容易生产。S系是一款非常出色的车,但是生产起来比较难。我们把车的部件减少,我们既保证了3系的设计轻盈,同时又保证它是一款经济车型,我们的团队在这点上做得非常好。与此同时,安全是另一个亮点。下面我们看一个安全性测试视频。视频上右侧的车是世界上最安全的车之一,Volvo S60。有很多车在安全上称作5星,但是这些所谓的五星并没有科学的评判,即使这些车从常规的角度上看是很不错的车,其中不乏像沃尔沃这样的车。不过我也同时同意沃尔沃是世界上第二安全的车。我想很明显如果有交通事故大家都希望开的是什么车。对于车辆的工程设计来说安全是最首要也是最重要的。
Then in terms of production, the thing that's gonna be the major challenge for us over the next six to nine months is how do we build a huge number of cars. I mean, frankly, we are gonna be in production hell. Welcome! Welcome to production hell. That's gonna be where we are for at least 6 months, maybe longer. But you guys know that you are veterans. You have been through this. So I look forward to working alongside you, turning through hell, and as the thing goes, if you are going through the hell, keep going(笑声).
在生产方面未来6-9个月我们将面临的挑战是如何能够生产出足够的车,坦白讲,我们我们将进入生产地狱,欢迎,欢迎你们来到生产地狱!这就是我们至少未来6个月的状态,但你们知道你们已经是过来人,你们已经经历过这些,所以我会期待和你们并肩作战,穿越地狱。不过如果你们如果已经进入到地狱,你们应该继续走下去。
Just give you a sense of the size of the factory. We got the pretty car factory where we are right now is the second largest footprint building in the world. That's gonna ultimately produce half million Model 3s and about 100,000 combined S and X vehicles. Maybe more if we can do it. I wanna give you a sense of the scale and how much has to go right. Then I think a frequent question I got asked. I noticed it's popping up on my twitter quite a lot, "Where is my Model 3?" Sometimes it's not phrased quite as nicely as that. Well, we are building the cars as fast as we can. We are gonna drive this ramp as hard as we possibly can. I have here a chart. If you were to have trouble falling asleep, then this chart might help you. The point is to give you a sense of how manufacturing actually works. There are 10,000 unique parts in a Model 3. These are coming from all over the world. About two thirds come from North America, and about a third from the rest of the world.
我想让大家感受下我们工厂的规模。我们现在的工厂的位置是世界上第二大工厂,这里最终将达到年产50万辆3系车和10万辆S系和X系车,甚至更多。这里我要讲的是我们要把多少事情做好。我在推特上经常被问到的一个问题是"我的3系车在哪儿?",有时候问问题的方式不像这么友好。我们在尽可能的加快生产速度,我们会努力实现屏幕上的这张生产目标图。如果你晚上睡不着的化,看看这张图会帮你很大的忙。我要讲的是生产的负责程度,3系车里面有上万个零部件,这些零部件来自全球各地,其中2/3来自北美,1/3来自其它世界各地。
As you can see with this chart, which looks like we are being shot with ICBMs (洲际弹道导弹缩写). That is the ICBM chart actually. Safety exactly. We need a missile command. We need a missile command button. Almost anything that goes wrong anywhere in the world, if we don't have buffer in the supply chain, we will interrupt the production process. When you have 10,000 unique items in a vehicle, any object, any one of them can slow down the production process. The production rate will move as fastest or the slowest with the least luckiest component in the whole mix.
这张图看起来好像我们正在被洲际弹道导弹袭击!如果世界的任何一个地方任何一个零部件出现问题,如果我们的供应链没有足够的缓冲,都将会影响我们的生产流程。当一辆车里有上万个零部件时,任何一个零部件都会减慢我们的生产流程,我们的生产速度会和整个组合中最不幸的零部件一样。
Then on top of that we have the giga factory. We started off with there being nothing. There was just desert. Built what it is now, it is actually now the largest battery factory in the world. When it's done, we will produce more lithium-ion batteries than the rest of the global production combined, for one building. (欢呼) So in fact, let's go to the gigafactory live. So we can connect to them. Hey guys! Here are the whole bunch of people in Nevada that help make the battery pack, and the motors and the powertrain. So we got a giant factory making battery packs and powertrains, giant factory making cars and giant supply chain. All of those have to work together in cadence in order to get to an initial target of 5000 cars a week, and then hopefully by the end of next year, towards 10,000 cars a week. You are probably wondering, I won't be able to charge my car. This is probably the second most common question I get on Twitter. "The super charger is full. What is wrong with you? You are such a huge idiot." I am like, Sorry. Okay, we are tripling the number by the end of next year, there will be three times as many super chargers as there are today. That really will help out a lot.
下面我们来讲讲我们的超级锂电池工厂,最初这里是一片荒漠,现在这里已经是世界上最大的电池工厂。竣工后这里的产量比世界其它任何地方的产量总和还要多。现在让我们看下超级工厂的现场。大家好!屏幕上看到的同事们在内华达州负责生产电池模组、电机和动力总成。我们的超级工厂要生产或组装电池组、电机、整车和所有供应链部分,所有这一切都要协调好,以满足我们最初的每周5000辆的目标,到明年底要达到每周10000辆,也许你会想充电会是个问题,这也是我经常在推特上被问到的第二个问题,"超级充电站都已经满了,你丫是怎么搞的,你就是个大白痴"。到明年年底我们的超级充电站会达到目前的三倍,这会解决很大问题。
Essentially you will be able to go almost anywhere, North America, Europe, Australia and many parts of Asia, and the gulf area, by the end of next year. Eventually you will be able to go anywhere on earth. Actually technically you can go anywhere on earth, because anywhere on earth where there is electricity, you can charge your car. The supercharger is just about being able to charge your car really fast.
到明年年底,人们最终可以去世界的任何地方,包括北美洲、欧洲、澳大利亚、亚洲的多数地区和海湾地区。事实上只要有电的地方你都可以去,有电就可以给车充电,超级充电站只是充电更快。
Let's talk about the specs for the Model 3. There are two main variances. There are the standard and the long range. The standard is gonna be 35,000 dollars for 220 mile range. It's gonna be a fast car, the acceleration will still be well under 6 seconds mph top speed. And you can also get the long range one, which has a range of 310 miles, (欢呼) and about roughly 5 seconds 0 to 60 top speed. This is gonna be a really great car. I think we are not able to find a better car, gasoline or electric, in that price range that is anywhere near as great. All right.
下面我们讲讲3系车的性能,我们推出两款车型,标准版和加强版。标准版定价35000美元,续航里程220英里,这是一款加速很快的车型,6秒钟即可达到满速。加强版续航里程310英里,5秒钟即可满速,这是一款很棒的车。无论是燃油车还是电动车,很难找到第二款能够与之媲美。
So let's head over to some cars. We have the first 30 production cars here being charged right now, right there. Hey guys. All right, so. Hey guys. Those are actual owners getting actual production cars. There are actually a total of 50 production cars that we made this month, and 20 of which will be used for engineering validation, 30 of which will be on the roads with customers. I wanna just say for those who have lined up to buy a Model 3. In some cases it's been days outside our stores to be first on the list. I just want to let you know that really matters to us. I really care. We will do everything we possibly can to give you the car as soon as possible. So we are gonna work day and night to do right by the loyalty you are showing us. Thank you for doing that.
我们过来看看车,我们这里有30辆车在充电。大家好,我们这些人实际的车主。本月我们下线了50辆车,其中20辆是用来测试,剩下的30辆车将会交给用户。我要感谢那些已经购买了3系车的用户,尤其是有很多人为了能够买到车不分昼夜在特斯拉的专卖店前排队。这对我们至关重要,我们会全力以赴尽快把车交给用户,我们会加班加点的工作来感谢用户对我们的信任和忠诚。
Just a reminder we got now 3 cars in production, there is the X, the S, and the 3. Those letters can be combined however you would like (成人笑点). It gives you a sense, if your order a Model 3 now, you will probably will get it towards the end of next year. Because the S and X are in production, if you order them now you can get them in about one or two months. I'd like to thank all the customers who own a Model S and X, and those who will buy a Model S and X, because in doing so, you make the 3 possible. The money we make with S and X all goes to building the Model 3. So thank you for doing that. Thank you our long time supporters. Thank you guys for making it. Thank you!
我们目前有三款车量产,X、S、3,这些字母可以任意组合。如果现在你预订一款3系,预计明年年底才能够提车。但如果你预订S系或X系车型,一到两个月即可提车。我要感谢那些已经购买或即将购买S系或X系车型的用户,我们在这两款车上的利润会全部用来使3系变为可能。在这里我要感谢我们的长期支持我们的用户,感谢我们的员工,谢谢大家!